Council shows off innovative building methods for sustainable council homes
The Royal Borough of Greenwich has been showcasing the cutting-edge modular construction techniques being used in its Greenwich Builds programme, which is creating hundreds of zero-carbon council homes for people on the housing waiting list.
At a visit to a 32-home development currently underway in East Greenwich, Leader of the Council Councillor Anthony Okereke and Cabinet Member for Regeneration Councillor Aidan Smith were impressed by a modular show home newly installed as part of the build. 
The modules are manufactured in a controlled factory environment before being installed on-site, allowing for much faster build times, reduced carbon emissions and less disruption to neighbours. 
Production under factory conditions means that modular homes also meet higher quality standards than traditional buildings, with better air-tightness and energy efficiency.
Supplier Modpods and contractor Elkins Construction are donating all furnishings in the show home to whichever local resident successfully bids for the home via the Council's Choice-Based Lettings system, which fairly allocates council homes to people on the housing waiting list according to need.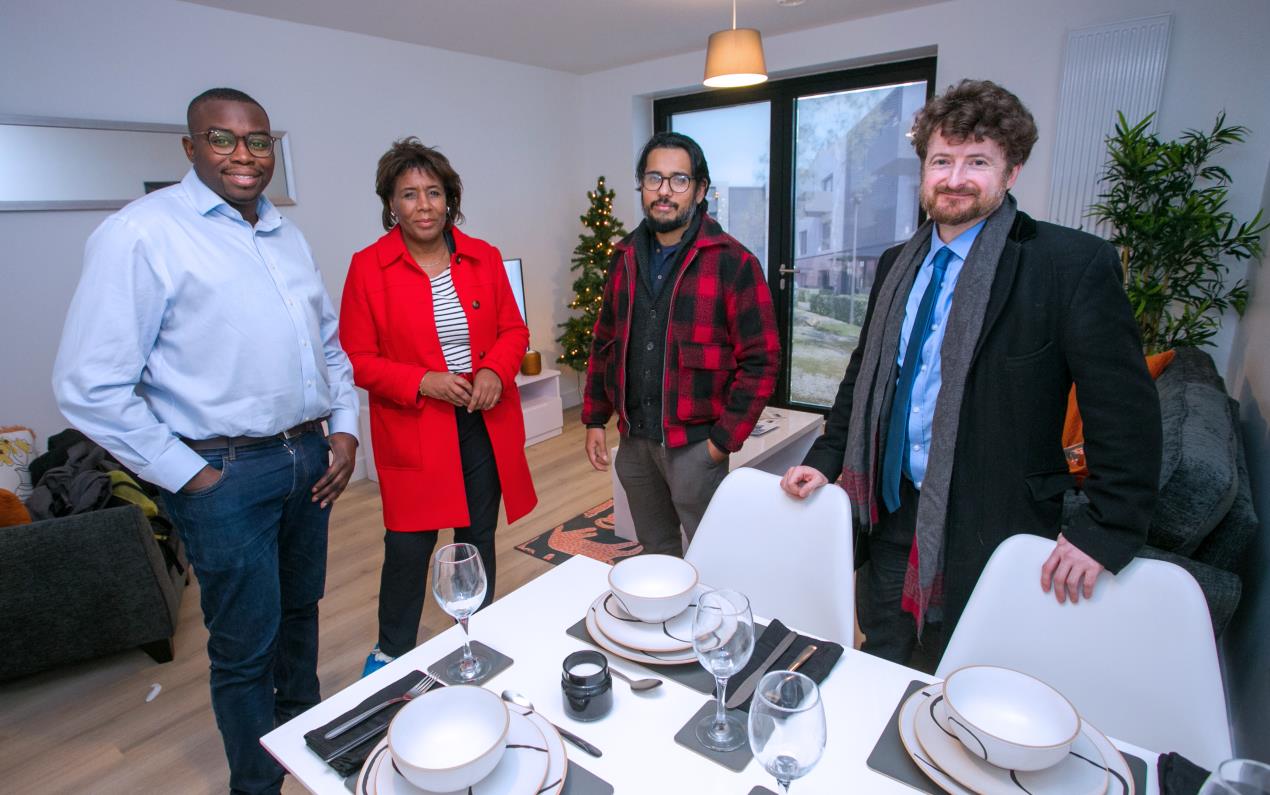 Councillor Anthony Okereke said: "Building truly affordable homes at speed is a top priority for the Council, and innovative modular construction is key in enabling us to deliver this. Modular building also reduces the environmental impact of our council homes, helping us meet the targets set out in our Carbon Neutral Plan. In addition, the use of solar panels and heat pumps means cheaper running costs for our tenants, vital when so many are struggling with the cost of living crisis."
Councillor Aidan Smith said: "These fantastic homes show exactly what we are achieving with our Greenwich Builds programme: superbly designed, sustainable homes targeted to meet the urgent needs of people on our housing waiting list. We are committed to creating 1,750 Greenwich Builds council homes across the borough, and with over 700 either complete or underway, we are making fantastic progress towards meeting this goal." 
The development on Tuskar Street is comprised of eight houses with private gardens, 12 duplex apartments, and 12 apartments with a shared residents garden. In line with the commitment for 10 per cent of all Greenwich Builds homes to be wheelchair accessible, three of the apartments are adapted for wheelchair use, and plans include three accessible parking spaces. 
In addition to Modpods and Elkins Construction the delivery team for the scheme includes local firm Blakeney Leigh. The homes are due for completion in early 2023.